A Suitable Gay Boy, Vikram Seth.
by Shivani Khokar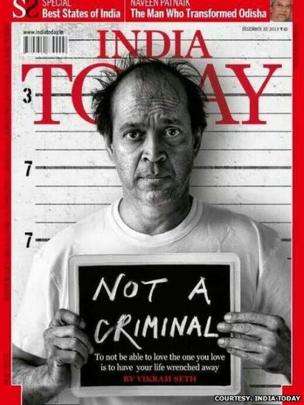 The queer community of India includes many legendary icons who are a symbol of hope for the whole queer youth in the country. Vikram Seth is the prime example of such an icon. A legendary novelist and poet of the modern era, he has been on the frontlines when it comes to fighting for queer rights and representation in the country.
Son of Prem Seth and Leila Seth, the first female Cheif Justice of a high court in India, Vikram comes from an educated and inclusive background which gave rise to his pleasant and inspiring persona. His mother has been the backbone of his courage and career. She openly and constantly supports Seth and the queer rights movement in India.
A Stanford alumnus, Vikram Seth's works like The Suitable Boy, The Golden Gate, and several collections of poetry have been successful in influencing Indian English Literature to a great extent. He has been awarded the Padma Shri and Sahitya Academy Award, both of which are among the highest laureates in India. In 2017, he was also awarded the Makwan Prize for International Peace, which is an annual award given in the honor of a 20-year-old Makwan who was hanged in Iran for practicing homosexuality.
Vikram on sensing the need for queer mobilization in India became the leader of a movement that eventually led to the decriminalization of Section 377 of the Indian Penal Code. This came as a flicker of hope for the LGBTQIA+ individuals who were tired of living in the margins. Quickly, he became an advocate for queer rights and started openly speaking about his experience and the struggles he faced by being an openly gay man in the country and around the world.
Voicing his views through words and verses, Seth became a binding force that bought people together in this fight for equality and a place in society. His non-violent and peaceful ways to connect minds and souls together are exemplary.
This world was created for everyone but eventually, bigotry took the front seat. Anybody who did not identify with these set binaries and role was and is regarded as an outcast and in a worst-case scenario a criminal. But the world today is changing, bigotry is being replaced by love and peace in the front seat. People like Vikram Seth are influencing souls, spreading love, and demolishing hatred.
Quoting Seth in his infamous interview with India Today, "To not be able to love the one you love is have your life wrenched away." His main message to everyone is on the lines that no one should be made to feel that they don't belong on this earth and everyone is allowed to experience love in whatever form they want to. He is an inspiration not just for the LGBTQIA+ community but for the whole world struggling for peace.