David Jay- Asexual Activist, Founder of AVEN- Asexuality Visibility and Educational Network
By Meghna Mehra
The Asexual Visibility and Education Network (AVEN) is the world's largest asexual community. It provides information for asexual people, their family and friends, researchers and mass media. Its founder, David Jay, America`s best known asexual person, gave a speech on everything from MTV to France 24. Sounds really cool! However, it wasn't always like that.
He found the site when he was 18, as he wanted to find out if there were any people like him. And now, thanks to Jay, it is more than 60000 members community, where people discuss their asexuality in a dozen languages.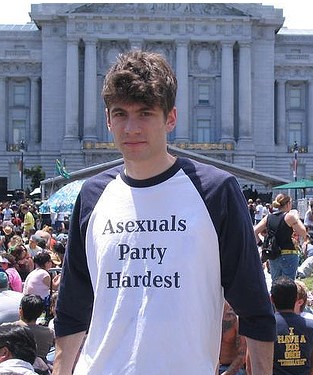 The community has two central missions. The first one is to create public acceptance and discussion of asexuality. People discuss asexuality not only on the web forum – free space for sharing experience without any kind of judgment. The AVEN community provides various educational activities: distributing informational pamphlets, leading workshops, arranging meetups, and speaking to the press.
The second goal is to develop an asexual community. Its founder working on putting the asexual orientation on the map. He is also striving to change the attitude of the medical community towards asexuality. Asexuality is listed in medical journals as the mental disorder "hypo-active desire disorder". David Jay believes that the frames of "mental health" should be reconsidered.
Frustrated with the lack of resources available regarding asexuality, Jay launched AVEN's website in 2001. David noticed his orientation during high school and his struggle began from that time. He focussed on creating a community for many others like him.
Asexuality is a minority orientation and part of LGBTQIA+ Community. Its two main goals are to create public acceptance and discussion about asexuality and to facilitate the growth of a large online asexual community. He has a vision for a post-sex world, one that asks all of us to work on building a more empathetic, intimate society that celebrates any kind of close human relationship, whether or not it involves sex. AVEN founder David Jay says asexuality is part of the sexual spectrum – a portion that's been overlooked in our sex-obsessed culture. He says he tells community members not to regard the term as a label that defines them, but as a tool.
"This word is a tool and not a label," says Jay. "The word 'asexual' is something you use to figure yourself out, not a sticker that sticks on you forever that tells you how you're supposed to be."image via- Wikipedia