Queer &Drag icon Sushant Divgikar aka Rani Ko-HE-Nur
A drag icon, a performer, a reality TV star, Mr. Gay India (2014), the first drag artist to make it to the Forbes 30 under 30 list, Sushant Divgikar just keeps on adding more and more golden feathers to his hat.
The performer endured a long struggle of 14 years before he established himself as an artist in the entertainment industry and he has definitely come a long way since then.
Sushant Divgikar is a well – known name now but he did have his own share of struggles. Crowned Mr. Gay India in 2014, he represented the country at Mr. Gay World 2014 and won an array of awards there and was the only delegate from India to win 3 sub – awards:Mister Gay World Congeniality 2014, Mister People's Choice & Mister Gay World Art 2014. Widely known for participating in reality TV show Big Boss 14, he started his career with UTV Bindass' Big Switch season 3 (directed by Rohit Shetty). He then did multiple reality TV shows as model and video jockey (VJ) before going for the Mr. Gay India pageant and participating in Big Boss.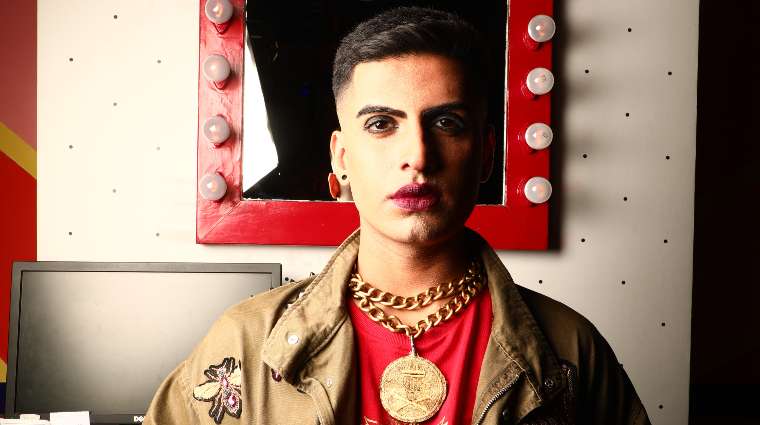 There are 2 documentary films based on his life which have been nominated and screened at various national and international film festivals.
India's first mainstream drag queen and Divgikar's alter ego – Rani Ko-HE-Nur just steals the limelight wherever he goes. He was drawn towards the world of dress up when he was a child. "I've always been fascinated with make-up, accessories and fabulous costumes. I would participate in fancy dress competitions and always dress like a mermaid or Madhuri Dixit; once I even dressed up as Tina Turner. But back then, I never knew what drag was. As I grew older, I started reading about it and observed other drag artistes from around the world and knew this is what I wanted to do!" and he defied gender norms to make Rani Ko-He-Nur a sensation!
His first opportunity came his way back in 2015 when he played a drag queen in Vikram Kapadia's theatre adaptation of Shakespeare's Merchant of Venice. And that is when he started doing live shows across the world. Soon, he started getting recognized and was spotted by Ishaan Sethi who introduced Divgikar to Keshav Suri (the executive director of Lalit Hospitality) who invited him to perform at KittySu in Delhi and who motivated him to take up drag professionally. That was back in 2017; that's how Rani Ko-HE-Nur was born and he has not looked back since. He even participated on singing reality TV show Sa Re Ga Ma Pa in his drag avatar which was considered a very brave move on his part. People there were surprised to see that he could sing in both male and female voice (and as someone who has seen him perform live in each voice, I have to say it was just amazingly brilliant). The great thing was that it was drag avatar Rani's first birthday a day before he started shooting for Sa Re Ga Ma Pa.
Rani Ko-HE-Nur is spelled with a 'HE'. Suggested by Keshav Suri himself, the 'HE' in the name is a representation that the person who brings Rani to life is a boy!
From his journey as Mr. Gay India 2014 to now being a singer, Divgikar has ventured into a lot of different ventures, the latest being singing. He released his debut single 'Diamond' during the 2020 pandemic. His sing speaks about all of being worth it despite our differences'; color, physical attributes, sexual orientation, background and so on. "I have emphasised on the fact that we are quick to judge and label another person without really understanding their struggle to stand fierce and take on the world……. it's also in more ways than one my own story. A lot of people have called me a lot of things, but I have decided to ignore them and march towards my dreams and achieve my goals." Now that's the kind of role models we want right!
As for his views on the queer representation in positive light, he says that they have been made fun of for years and years in films, TV, theatre and also in mainstream media. But we are (slowly) making progress. Considered a very diverse country, Indian laws still don't accept the LGBTQ+ community to the fullest. "Why don't we all be a little more human and more respectful to the LGBT+ community within our country too? We are as human as our heterosexual brothers and sisters. We breathe the same air and also want to be productive members of society. I believe it's time to leave this regressive mindset behind and now that Section 377 is out of the way, let's make our society more inclusive and respect everyone for who they are. Art has no boundaries, let's not unnecessarily create these boundaries ourselves!"
It is just amazing to see Divgikar's and Rani's journey and how they have now become inspirations for LGBTQ youths across the world, especially in India. He was the one who made drag a phenomenon in India and hats – off to him for never giving up on his dreams and not trying to fit inside a box!
Sushant considers himself to be an eclectic person and is definitely not wrong. This multi – talented individual has been trained in 8 forms of dance (including Bharatanatyam and Salsa), 3 forms of martial arts, is a drag artist, is also a certified industrial psychological, model, VJ, and finally Mr. Gay India! And if that wasn't enough, he is a brilliant singer too! He says he is glad to have very supportive parents who have always stood by him!
As for his future plans, he plans on creating more music and already has 12 – 13 song releases coming up. Along with this, he is planning on opening 'House of Kohinoor', a safe space to train and support younger generation of drag queens!