Angela Davis- Living Legend
By Nikita Pradhan and Meghna Mehra
When one thinks about the anti-racism movement, one always remembers Angela Davis. She is a living legend among us inspiring us to fight for our rights. As a Marxist, she always spoke up against discrimination and stood her ground. Angela Davis is best known as a radical Black educator, a Marxist feminist, and a political activist. Born in 1944 to an African American family in Birmingham, Alabama, Davis began her life as an organizer when as a teenager she organized interracial study groups, which were then broken up by the police. Davis began her teaching career in 1969 when she joined the University of California, Los Angeles (UCLA) as an acting assistant professor of philosophy. In the 1960s she emerged as a prominent radical activist after she joined the communist party of the USA and became part of various causes like the second-wave feminist movement, Black Panther Party, and the campaign against the USA-Vietnam war.
Her association with communism soon led to her being fired by UCLA. She fought against this ruling in the court, which declared the ruling to be illegal. However, the university fired her again, and this time for her use of inflammatory language. Outside of academia, Davis was not only fighting racism, sexism, classism, and prison reforms, she was also jailed on charges of murder in 1970. Davis was charged with conspiracy, kidnapping, and homicide after a shotgun registered in her name was used in a courthouse hostage shooting linked to the Black Panther Party.
While she was in prison, thousands of people across the United States started organising a movement to gain her release. By February 1971 more than 200 local committees in the United States, and 67 in foreign countries, worked to free Davis from prison. Posters of "Free Angela" were seen all around the country. She was ultimately acquitted of all charges in 1972.
Davis is now a professor emeritus at University of California, Santa Cruz and former director of it's Feminist Studies department. Davis has been an outspoken activist, and has received both harsh criticism and strong support for her work. Over the years, Davis has become a global symbol of radical resistance.
Much of her work focused on the abolition of prisons and in 1997 she co-founded Critical Resistance, an organization working to abolish the prison–industrial complex. Davis Came out as a lesbian during an interview with Out Magazine in 1997. Even though she came out to the public late in her life, Davis was always a supporter of the LGBTQ community. Davis' public acceptance of her sexuality has given her slogan "Free Angela" even more meaning. Her life has been dedicated to the cause of equality in all forms. She fought systematic oppression from a very young age and still speaks to us against patriarchy, racism, and capitalism.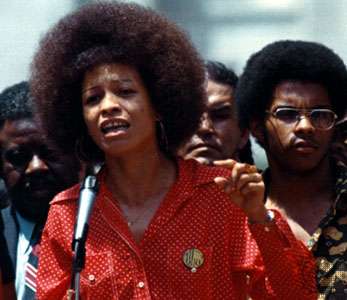 What makes Angela's activism timeless is her confidence in her ideologies, belief that the change can be brought up by uniting together and focusing on fighting against discriminatory forces. She has mobilized workers and inspired a generation of working-class people, the LGBTQIA+ community along with the black community across the globe to fight for their rights and to never give up. She has taught our community what queer liberation actually means how workers' movement should be intersectional. We salute the spirit of revolution that Angela Davis has and will always ignite within all of us.