Book Review- SIMON vs THE HOMO SAPIENS
Book: Simon vs the Homosapiens Agenda
Author: Becky Albertalli
No. of pages: 352
Publisher: Balzer + Bray
Ratings: 4.5/5
A story with genuine feelings! this is a book that every LGBTQ+ teen should read at least once.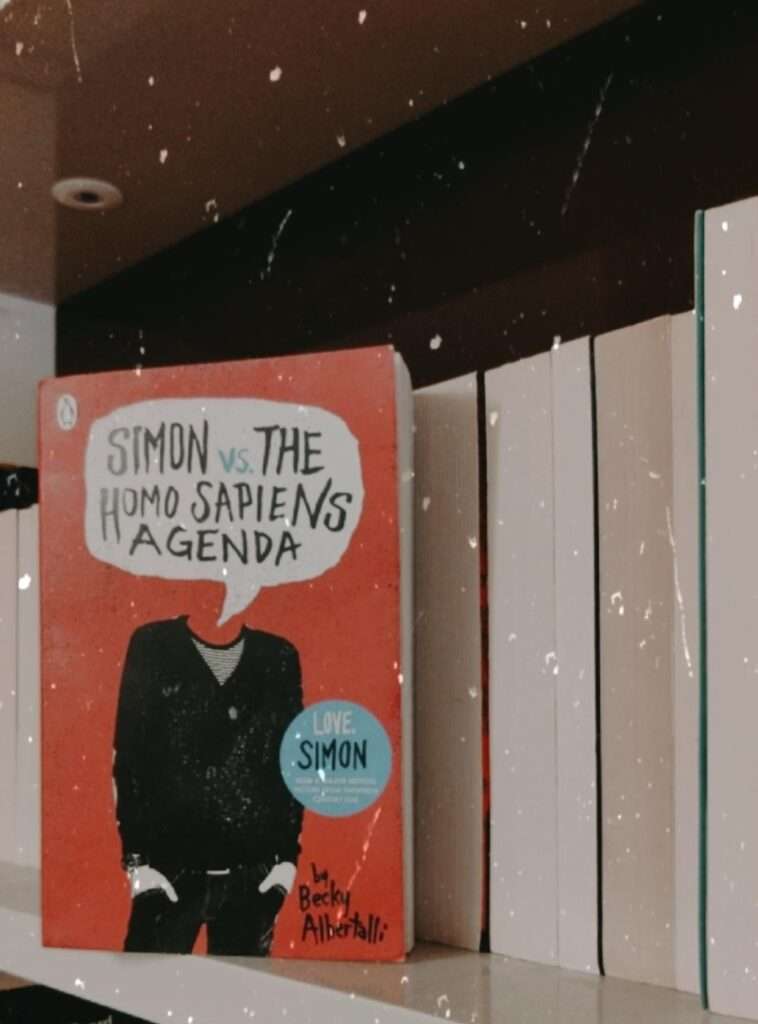 It is a beautiful coming out story of 17-year-old gay teen Simon Spier, still trying to figure out his identity, how to define himself and learn how to be unafraid and comfortable with himself while trying to love who he loves, all while facing the world (and the problems that come with it!).
This book never fails to make you smile and all the characters are 'oh so relatable!' – Simon Spier – who constantly thinks about how he has changed in the last few years, learns that he needs to be a better friend, I just love how he messes up and then strives to do better. A fumbling dork but a refreshingly honest one is what makes him stand out.
Then we have Bram Greenfield, the human embodiment of sunshine and glitter and all things nice, I love he makes people feel genuinely wanted. He might have only about 5 appearances in the book but you fall in love with him instantly. Awkward at communicating, an introvert what surrounds himself extroverts to create the mood and atmosphere and has no chill when it comes to his crush. Bram and Simon's love is so innocent and sweet and I really like how he gives Simon subtle hints through his mails about how he would be able to find him! the fact that earlier Simon used to mock the cutesy Facebook couples but ended up wanting to have exactly the same relationship, is adorable.
Then comes Leah, an open but still quite a closed off person. She automatically thinks that everyone dislikes her but she is a genuine friend which will tell you how you genuinely look and if your hair is a mess. I love how Simon instantly knew that Leah picked his birthday cake that was perfect and only she would remember that Simon thinks that red icing is too red and that he can't commit to one flavour. Having a friend that remembers (and considers) every tiny detail is a luxury only few have.
Blue on the other hand is quite insecure and very shy, but that is what makes him adorable. I love his 'always perfect' grammar and how he expressed himself. I also really liked Simon's family; just how open and loving they are, and also full of adorable but strange habits, I mean the scavenger hunt on Facebook idea was quite hilarious. And the time Simon comes out to his family is just priceless.
Becky is one of the most observant YA authors who understands teenagers and their emotions to the T! it is a great read and I loved reading it from Simon's perspective. This book feels like
"A taste of hot cup of coffee in early spring,
The warm summer rain caressing your skin,
and smells like the clear night sky in the midnight on a cold winter night."
I love the Harry Potter references! Another thing that I really liked was that Simon always stood his ground but did not like how people made him feel insecure. When he tells Martin his opinion on the Tumblr post, I was like damn!! Tell him what he did!
This book will definitely bring happiness to your life and make you feel enchanted with its creatively unique writing. Every chapter brings in a unique perspective and they alternate between Simon's story and his and Blue's mails. With everything going on, I must say that it is a very engaging book and I cannot recommend it strongly enough.
"As a side note, don't you think everyone should have to come out? Why is straight the default? Everyone should have to declare one way or another, and it should be this big, awkward thing whether you're straight, gay, bi, etc. I am just saying." 
you can follow Ishika on instagram –  https://www.instagram.com/ishika_paruthi/?hl=en