George Takei: Wit, Wisdom and the Wizard of Space
"Diversity is one of the strengths of our society."
George Takei was born as Hosato Takei on April 20th 1937 in Los Angeles, California to Japanese-American parents. While he's known by a majority of the younger generations now as a hilarious Queer icon on Twitter and Facebook because of his timely memes and involvement in social activism – he is beloved by the older generations as Lieutenant Hikaru Sulu one of the iconic Astro-sciences-physicist and co-helmsman of the starship USS Enterprise (NCC-1701).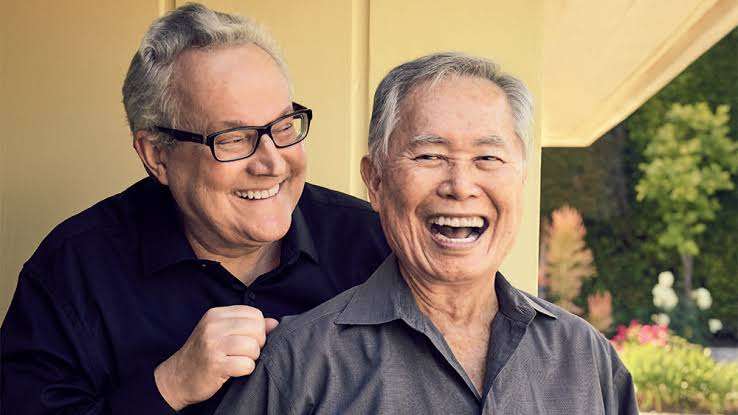 Takei has always been an openly-supportive advocate for LGBTQ+ rights ever since his Star Trek days, as well as an advocate for reparations towards Japanese-Americans being forced out of their homes and into internment camps after the signing of Executive Order 9066 in 1942.
Having experienced xenophobia due to war tensions as well as homophobic de-humanizing rhetoric during the AIDS crisis, he has always been a staunch supporter of the rights of all minorities that have been disenfranchised by oppressive forces backed by governmental authority.
Takei and other Japanese-American advocates for reparations towards them ended up succeeding in 1988 when the then-President Ronald Reagan signed a legislation giving them $20,000 and a formal apology to the Japanese-American community. While Takei considered this a win, he also stated his support and further necessity for the descendants of enslaved peoples to get their overdue reparations.
He states, "For us it was for horrific years. For African-Americans, it's four torturous centuries."
Takei states in an interview held by the University of Rochester as part of the semi-annual series: Difficult Conversations as a Catalyst for Change – that while he was publicly involved in multiple social issues in 1969, he was unable to speak on his beliefs in marriage equality for queer couples. It was torturous for him, as he was still closeted even though the Stonewall Riots were in full-swing but he had to protect his career.
In the 1980s George met his husband Brad Altman as they frequented the same gay running club Frontrunners. George made the first move by asking Brad to train him for his first marathon and their bond grew as they fell in love swiftly. They mutually agreed to keep their relationship under-wraps even though they lived together.
Altman managed a few of Takei's PR events, press releases and became somewhat of a financial manager for him. This professional relationship has been carried into the present as Altman is still in charge of his husband's career as a business manager, ensuring his legal and financial security. He also takes charge of private matters, such as household duties as he playfully teases his husband for being far more talkative than being helpful at chores.
In October 2005, Takei and Altman openly came out as being gay after having being together for several years – this was in response to the then-Governor of California, Schwarzenegger's vetoing of a bill that would have legalized gay marriage.
The loving duo were the first gay couple to apply for a marriage license in West Hollywood on May 2008. Once they got the certificate in June of the same year they finally held and celebrated their marriage on 14th September 2008, after two decades of being together.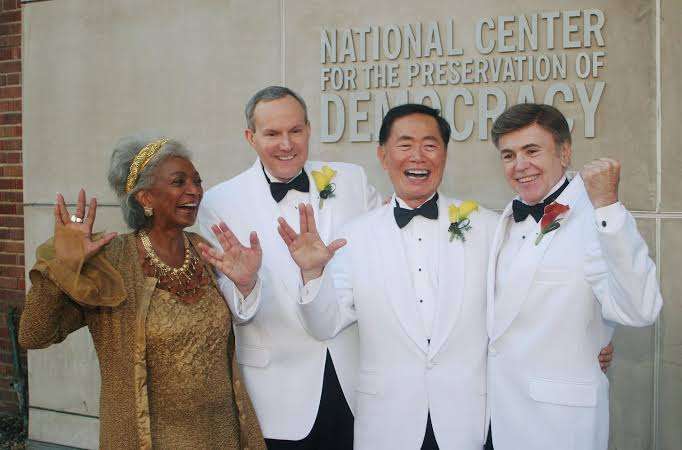 They held a ceremony at the Japanese American National Museum along with Walter Koenig (who played Ensign Pavel Chekov who was Sulu's co-helmsman of the Starship) as the Best Man and Nichelle Nichols (who played Lieutenant Nyota Uhura) was Best Woman.
While George and Brad wanted to have children, they knew that without the security of a marriage they wouldn't be able to provide for the child and once their marriage was official, they felt too old to be fathers. They revealed that the secret to their long-lasting marriage was their teamwork and their ability to have a good laugh in the face of tough times, together.
Takei is still very active on social media and his witty jabs and online skits that poke fun at queerphobic authority-figures, regardless of the industry they're in, is a welcoming and hopeful sign we hope to be able to see for many more years.