Tamara de Lempicka – The Baroness with a Brush
By PoojaI (IG: @bypoojai )
"I live life in the margins of society, and the rules of normal society don't apply to those who live on the fringe."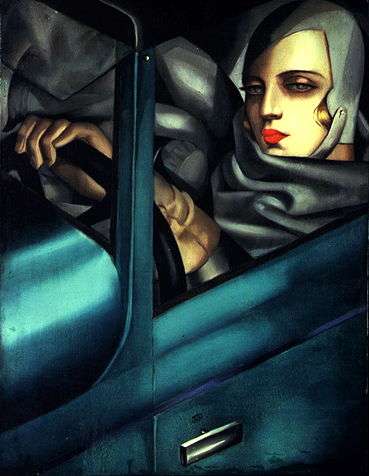 While her own words tell us so much about her, Autoportrait (Tamara in a Green Bugatti) created with her own brushes show us visually who Tamara de Lempicka was. Commissioned by German magazine, Die Dame in 1929, the self-portrait defined her a "symbol of women's liberation". Singularly encapsulating the era of Art Deco with post-Cubist composition, sophisticated colour palette and the glamourous style, Lempicka truly transcended her time.
Born into a privileged Polish Jewish Family in 1898, Warsaw Tamara Rozalia Gurwik-Górska dove into art when she was ten, taking pastels, and drawing her younger sister. Her interest was enriched when she toured Italy with her grandmother during her teens. During a summer in St. Petersburg, she fell for prominent Polish lawyer, Tadeusz Łempicki. The Russian Revolution in 1917 overturned their comfortable married life, causing them to flee to Paris. They struggled to get by, with a young daughter, Kizette in tow. After selling off the family jewels, Tadeusz was unable to provide for them, which led Lempicka to step up and take action. After enrolling at the Académie de la Grande Chaumière she resestablished herself as "Tamara de Lempicka", the name that brought her fame.
Her highly stylized technique inspired by the Renaissance but influenced by Cubism and Futurism was what brought her breakthrough in 1925. Lempicka's work recalled French neo-classicism but incorporated vital elements of modernity – cinematic lighting, futuristic metropolitan backdrops, and advertisement-like composition. She painted tirelessly, showcasing 28 works in six months. Her clear style distinguished her from other painters of the time. Unlike other painters, she moved with ease in social circles.
Her striking beauty, charm and fashionable looks, established her reputation in high Parisian society. She walked in glamorous circles with Pablo Picasso, Colette and Jean Cocteau. She lived scandalously for the time, wearing her bisexuality on her sleeve. With various lovers from Marquis Sommi Picenardi to Suzy Solidor. This showed off in her art with formal and narrative elements in her portraits, and her nude studies with themes of desire and seduction. Her nude portraits, mostly of women and few of men were unashamed and provocative. A single glance at them exuded sexuality. She attended various parties in circles of lesbian and bisexual women. At one such gathering, she arranged food tastefully on the body of a nude woman and then slowly ate "her midnight meal." In her trips to Italy, she became part of a circle that included Violette Trefusis–the lover of Vita Sackville-West–and Colette.
While she usually pursued older men as social companions, she slept with younger and handsome ones. Sophisticated, fashionable, and beautiful, she was often seen caressing a working-class man one night and a woman the next. This lifestyle put a strain on her marriage and she divorced Tadeusz in 1928. The same year, she met Baron Raoul Kuffner of the former Austro-Hungarian Empire and she became his mistress, marrying him 1934 after his wife passed away.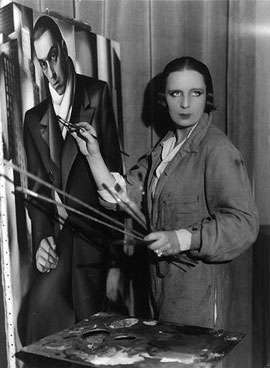 When the war broke out in 1939, they relocated to the United States, where they remained for the remainder of their life together. She continued with her frenzied social life with fewer commissions. Art deco was beginning to move on at the time an she continued to paint still lifes and abstract works, occasionally reworking an older piece in a new style. Lempicka retired from professional art in 1961 after Baron's death and moved to Texas to be closer with her daughter, Kizette.
Tamara de Lempicka passed away in 1974. Her legacy continues, with her art displayed not only in museums around the world, but in the homes of the prominent figures like Madonna who are avid collectors of her work. Let her soaring ambition, her brazen sexuality, and her powerful depiction of women inspire you to live your own life on the fringe as she lived hers.